Painted Sub Floors.


Yes, We painted our floors. One weekend, we decided to rip up all of our carpet on the second story of our home. We have been in the process over the past year of replacing all flooring with hardwood. We just had finished the master bedroom. I could not wait to start on the rest of the bedrooms. Only problem, my budget was non-existent for the rest of the hardwood! So, I decided to make it work for much less! I painted the sub floors!


Now, do not get me wrong, this was NOT a one day process, but in the end, I love the look! So I thought I would share the process with you. I know, maybe painted floors are not for everyone, but I no longer wanted dusty carpeting. We have done about a gazillion home improvement projects in our home over the years, and this carpet was showing wear and I love the clean feeling of natural floors!



First Step: ripping up all carpet, nail strips, staples etc. Do you see that yucky dust everywhere on the floor? That was under my carpet... My Dyson didn't reach under the padding!! So glad to no longer have that in the house!


So, after removing all tack strips, you start pulling out the 5 million staples from the floor, and then you sweep, and sweep again, and then you find another million staples you missed. Keep going, your almost finished. Be sure to have fun while working!
Here is where we tried to skip a few steps, but it didn't work out in the end, and we had to do it anyway, so take my advice and don't skip this part, for a more smooth finish.
We tried just painting on the primer here without doing any sealing of cracks...

Those big gaps on the floor do not look so good. Back to beginning:
We used a wood filler.
You just fill the cracks and scrape off the excess with a putty knife, be sure to really fill those gaps.
Looks like this:
Ok, another step you do not want to skip: Sanding!
We tried the little palm sander... Not enough power.
Time to get out the Belt Sander, now it is working much faster and smoother.
(We should show this using a mask and safety glasses!! oops) This creates a giant mess, I just went behind my husband with the vacuum cleaning up the mess as we made it. You will still see dust settling for awhile, be sure to let settle and then clean all the surfaces again before you start to prime.
We used KILZ oil based primer, it was thick to paint with, just using rollers on the floor. This way the floors were sealed and only needed one coat before the painting.
I used an exterior porch paint to paint over the primed floor. The color is
Slate Grey.
Next, after a few days of drying I decided add a fun element by stenciling a pattern. I purchased this stencil at Hobby Lobby (using my coupon).
I used a foam roller and Chalk Paint.
(
Tip:
Be sure to get off as much excess paint from the roller before you paint the stencil. I used a paper towel to roll over before I rolled the floor.)
I just randomly placed the stencil and love how it turned out!
I did not use a sealant over the top. I am impatient like that, I was ready to move furniture in immediately. We have a few chips, but mostly because I think we needed to let the porch paint cure a little longer. The chippy floors go great with our Shabby Chic theme.
The finished product:
I am so glad we decided to do this. The floors add such a cool element to the room and they feel so clean and fresh! So, hardwood for $1000 or painted floors for less than $100?
I think this will work!
I painted my little boo's floors also, but not finished, I am thinking about adding a pattern using Chalkboard paint, so he can lay on the floor and draw! Stay tuned, to see how it turns out.
Thanks for reading. Have a great weekend!
Jeanne
I am going to be sharing this tutorial here:
back. I only feature those who link back to me within your post.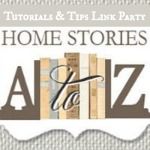 <div align="center"><a href="

http://www.

homestoriesatoz.com/" title="Home Stories A2Z" target="_blank"><img src="

http://i916.

photobucket.com/albums/ad2/bethcrabtree/tutorialsandtips-1.jpg" alt="Home Stories A2Z" style="border:none;" /></a></div>